Synthesizer V Studio 1.9.0b2 Update
Dreamtonics releases Synthesizer V Studio 1.9.0b2, a subsequent update to the 1.9.0b1 version released on April 18th. This second beta iteration focuses on rectifying several design issues identified by our users in our latest post-release survey. The updates include a thorough redesign of the UI elements associated with Manual, Sing, and Rap pitch modes, along with enhancements to the pitch model's response to rap control parameters.
Please note that features are subject to further refinement and finalization before the final release. Synthesizer V Studio 1.9.0b2 can be accessed via the download links provided at the end of this document. To enjoy the improvements made to the pitch model, please manually download the latest beta version of the voice databases.
Improved User Interface for Pitch Modes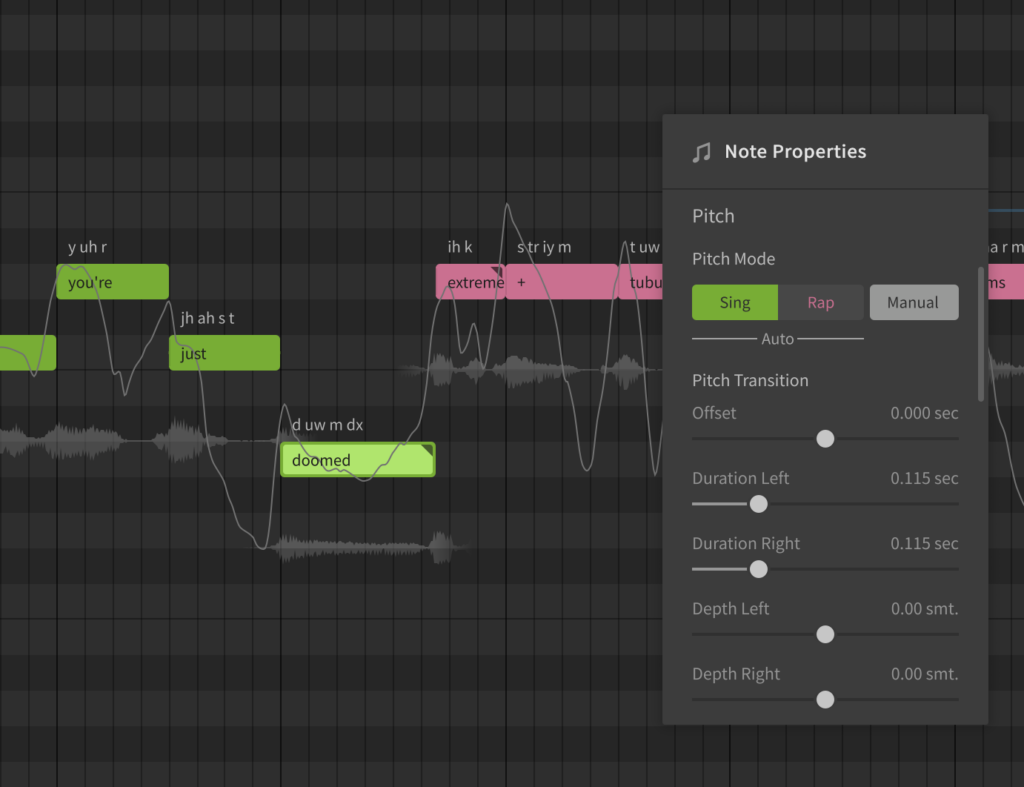 Our previous beta version (1.9.0b1) introduced a tricolor scheme to distinguish notes in Manual, Sing, and Rap modes. User feedback, however, indicated that the blue color assigned to Manual notes had a low contrast with the pitch curves, leading to some usability issues. To address this, we've implemented important enhancements.
Instead of assigning a new color to the Manual mode, we've introduced a small marker on the edge of each note. This new bicolor approach reduces visual complexity and ensures minimal disruptions when opening older projects.
Additionally, we've disassociated the Manual mode from the Sing/Rap modes, making it an independent on/off option. This change enables the assignment of Manual mode to rap notes. Although it does not introduce new features, this new mode combination facilitates the "locking" of the pitch, thereby preventing it from being inadvertently overwritten by the AI pitch model.
Customization Options for Manual/Sing Mode Transition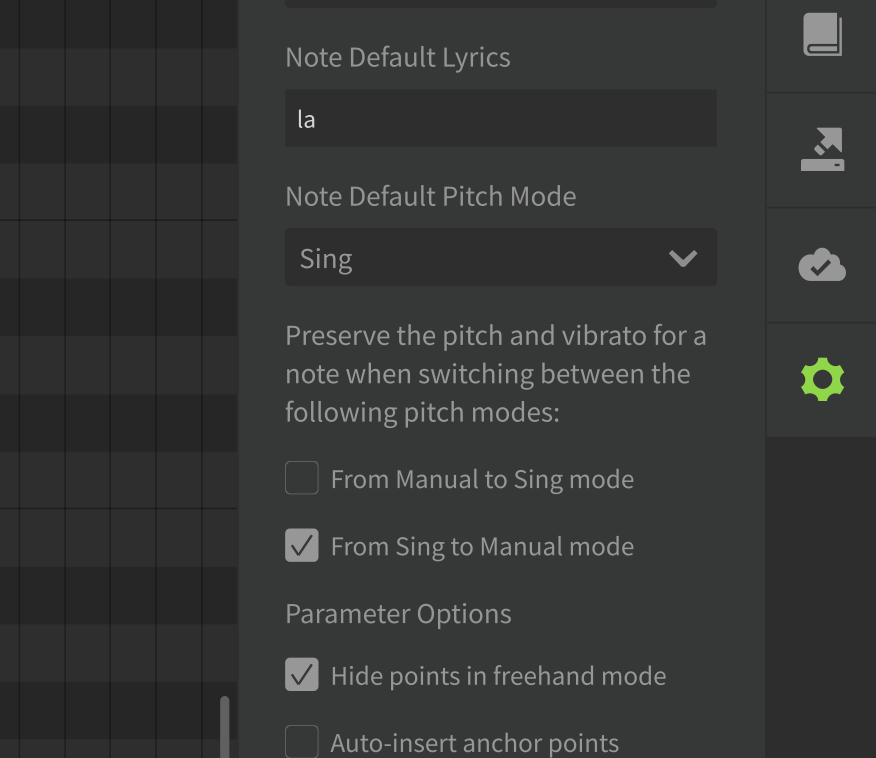 In the 1.9.0b2 version, we have incorporated the capability to customize the transition behavior between Manual and Sing (Auto) modes. Before this update, switching from Manual to Sing mode resets any user-drawn pitch on the note, replacing it with AI-generated pitch data. This conflicted with the user expectation set by the Instant Mode in versions prior to 1.9.0.
To address this, we've included a feature to retain the pitch drawn by the user even when transitioning into Sing mode. This improvement ensures consistency with previous versions that utilized the Instant Mode, thereby enhancing the user experience with the pitch modification process.
Enhanced Response to Rap Parameters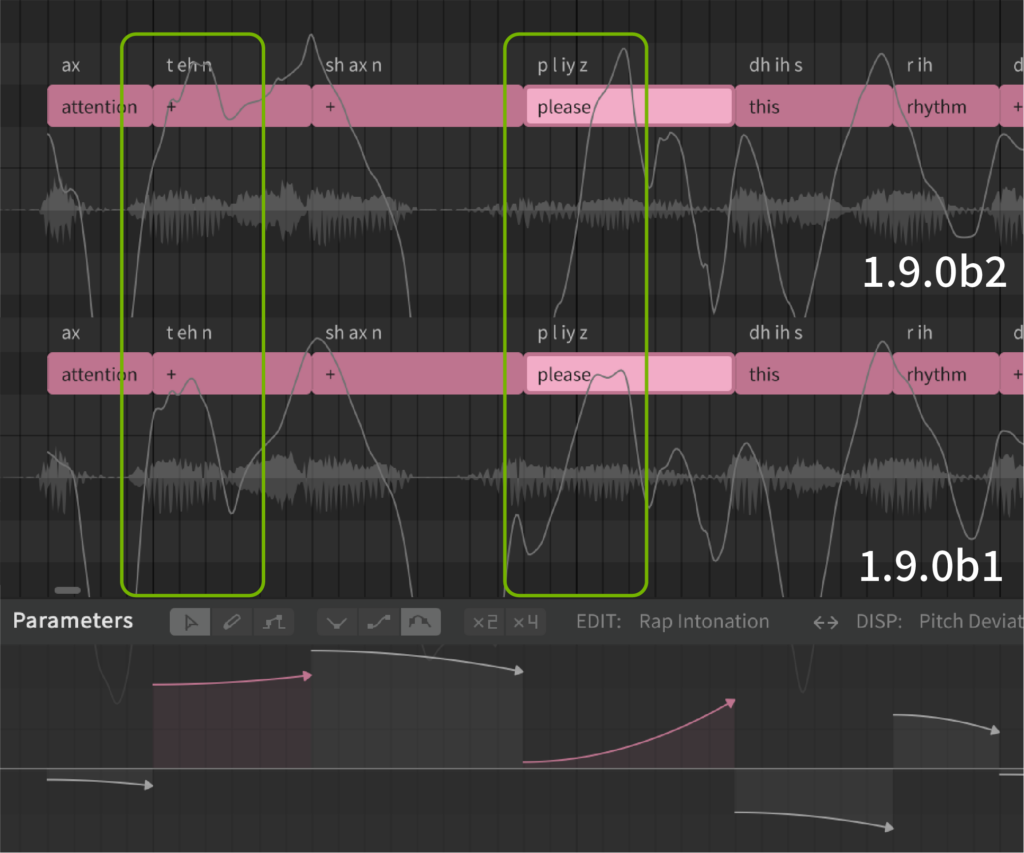 Apart from user interface enhancements, we've also refined the core technology that drives our pitch model. This update ensures a closer alignment with the user-modified rap tone and intonation parameters, leading to a more seamless and natural output.
How to Access the New Release
Separate beta versions will be released for both Synthesizer V Studio and the voice databases.
Synthesizer V Studio 1.9.0b2
1.9.0b2 is a beta version. Beta releases of Synthesizer V Studio are offered before the final release for early preview of new features. Before installing and using a beta version, please understand that:
The beta version is still a work in progress.
The beta version may not function properly as described.
Unexpected behaviors may happen while using the beta version.
You can download the 1.9.0b2 installer from our download page.
Voices Updates for Synthesizer V Studio 1.9.0b2
Given the extensive changes in this beta release, we are initially offering beta updates for Dreamtonics voices, which include the following products:
An Xiao, Cheng Xiao, Cong Zheng, Feng Yi, Kevin, Mai, Mo Chen, Natalie, Ninezero, Ryo AI, Saki AI, Qing Su, Weina, Xuan Yu, Yuma
You can access the beta installers from our download page. Updates for Feature-Limited Voices (D-Lin and Ritchy) can be accessed from the FLT download folder.
Updates for third-party voices will be announced at a later date.
See below for detailed release notes.
---
Synthesizer V Studio 1.9.0b2 (May 23, 2023)
New Features
Auto-Process: updated AI pitch generation models with rap support (only for English and Mandarin Chinese at the moment) and more control options for singing.
Synthesizer V Engine: added Cantonese support (voice update required).
Note Properties Panel: added accent (only for Mandarin Chinese), intonation, and tone controls for rap notes.
Note Properties Panel: added Vibrato Modulation for singing notes (only for Pro edition).
Parameter Panel: added "Rap Intonation" view for editing rap.
Voice Panel: added global options for Vibrato Modulation and "Improvise note attack and release" (only for Pro edition).

Enhancements
Note Properties Panel: redesigned Instant Mode as a note-specific "Pitch Mode" option.
Parameter Panel: "Vibrato Envelope" parameter now also works for AI-generated pitch (only for Pro edition).
Synthesizer V Engine: improved the pronunciation under cross-lingual synthesis (voice update required).
Settings Panel: added options for the behavior (preserve or reset the pitch curve) when switching between Sing and Manual modes. (Update from 1.9.0b1)
Piano Roll: revised the design for notes under Manual mode. (Update from 1.9.0b1)
Note Properties Panel: revised the design for the pitch mode switcher. (Update from 1.9.0b1)
Auto-Process: improved the pitch accuracy at extremely high/low pitches. (Update from 1.9.0b1)
Scripting: added script bindings for features related to rap and note-level language settings. (Update from 1.9.0b1)

Behavior Changes
Plugin: the piano roll keyboard now only plays tones on the channel corresponding to the current track.
File: when loading a project from version 1.8.1 and before, strictly follow the global Instant Mode status when setting the pitch mode for notes in the project. (Update from 1.9.0b1)
File: set the pitch mode (Sing or Manual) based on the default pitch mode when importing from external formats. (Update from 1.9.0b1)

Bug Fixes
Auto-Process: fixed a bug where pitch is not recomputed after editing the tempo under Instant Mode (now under "sing" mode).
Note Properties Panel: fixed crashes when switching to a new project after selecting a note group with the panel left open.
Render Panel: fixed small timing inaccuracies when bouncing an instrumental track.
Arrangement: fixed a bug where the name for newly created tracks is not translated according to the UI language.
Parameter Panel: fixed various issues related to the copy-paste behavior of control points. (Update from 1.9.0b1)
Plugin: fixed a bug where the preview sound from a MIDI keyboard always goes into the master output instead of the track's own channel. (Update from 1.9.0b1)
License and Updates panel: fixed crashes when closing the License and Updates panel immediately after installing a voice database. (Update from 1.9.0b1)
Auto-Process: fixed a bug causing the effect of Vibrato Modulation to return to its maximum when lowered to 0 on x86 processors. (Update from 1.9.0b1)
Linguistics: fixed empty phonemes occasionally appearing on some Cantonese vocabulary. (Update from 1.9.0b1)
Parameter Panel: fixed crashes when selecting a vocal mode parameter on Linux. (Update from 1.9.0b1)
Scripting: disabled some Javascript features causing incompatibility with Logic Pro when running as a plugin on macOS. (Update from 1.9.0b1)