Synthesizer V Studio 1.9.0b1 Update: Rap, Cantonese and More
Dreamtonics releases Synthesizer V Studio 1.9.0b1 update.
As a major update to Synthesizer V Studio, version 1.9.0b1 is being released as a beta update. This new version introduces Rap Vocal Synthesis, enabling users to generate authentic rap vocals with seamless integration into existing features. Additionally, the update revamped Instant Mode, which now provides greater control and flexibility over pitch generation. Finally, users can now experience Cantonese cross-lingual singing synthesis with improved pronunciation and enjoy free trials of our newest rap voices, Ritchy and D-Lin.
Read more to explore the comprehensive features of Synthesizer V Studio 1.9.0b1 and elevate your creative experience.
Rap Vocal Synthesis
Version 1.9.0 of Synthesizer V Studio now offers the ability to create authentic rap vocals. This includes a brand-new "Rap" mode for pitch generation and a redesigned interface within the parameter panel, allowing for precise and user-friendly control over rap intonation.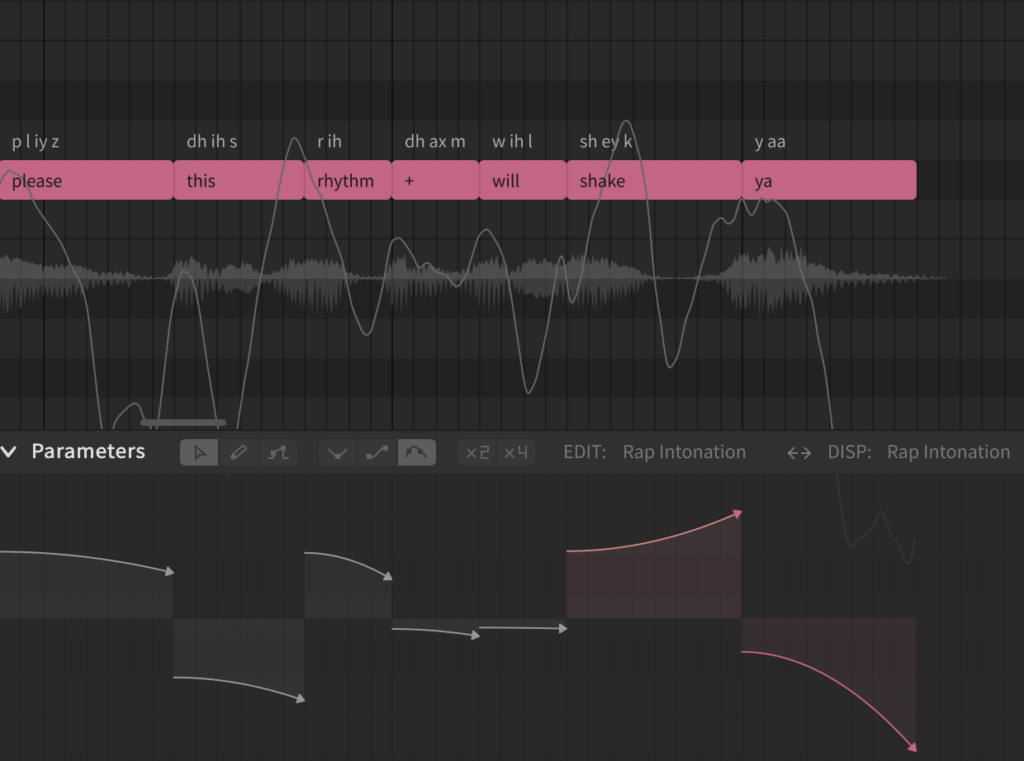 With the introduction of rapping as a pitch generation mode, customizing rap vocals now effortlessly blends with existing features like AI Retakes, Vocal Mode, and Cross-Lingual Synthesis. Users can easily transition between rap and singing modes or mix lyrics from multiple languages within a single verse.
Initially, support for rap vocals is available in English and Mandarin Chinese; however, we are excited to announce plans for extending this functionality to Japanese in a future update.
Furthermore, this rapping functionality is accessible for both new voices tailored specifically to the hip hop genre and, via the Rap pitch generation mode, to existing voices as well.
Instant Mode Revamped
Initially introduced in version 1.6.0, Instant Mode served as a significant extension to the Auto Pitch Tuning feature, streamlining workflows for creating lifelike singing expressions. However, this sometimes restricted users' ability to manually adjust pitch curves as needed.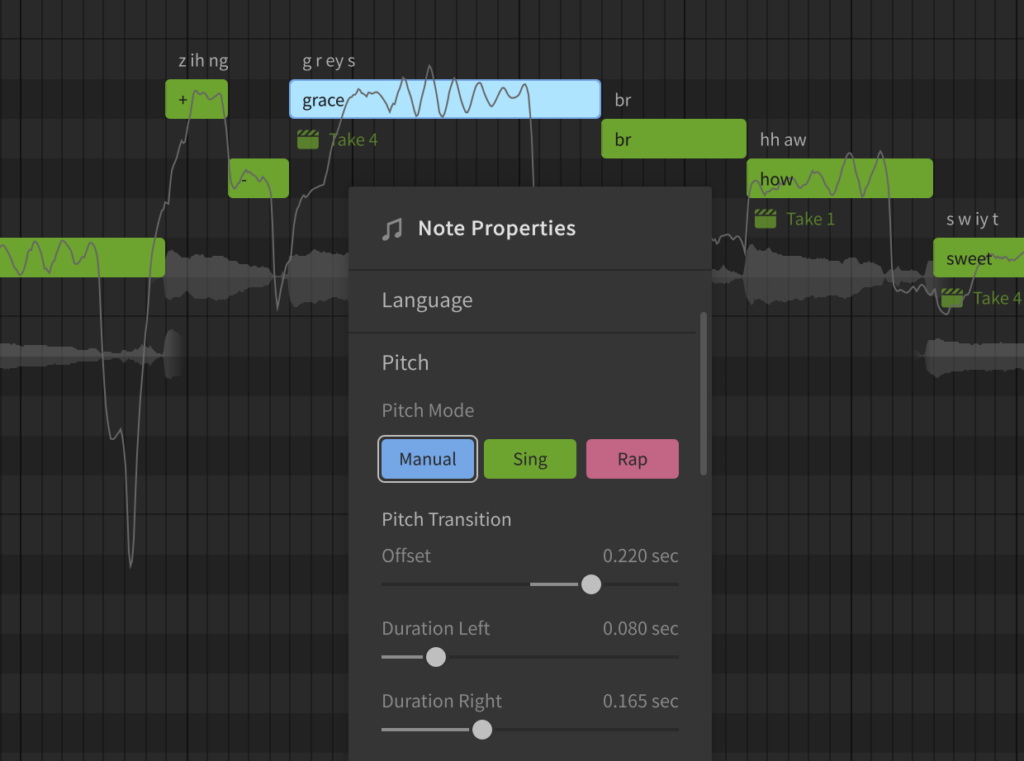 In version 1.9.0, we've addressed this issue by shifting Instant Mode from a global, project-wide option to a note-specific option. With the addition of Rap mode, users can now choose from three modes for each note: Manual, Sing, and Rap. This enables users to start a project with all notes in Sing/Rap modes and switch to Manual mode only where specialized adjustments are needed—saving time without compromising on flexibility.
Enhanced Options for Singing Pitch Generation
In our quest to simplify pitch creation workflows, we're also investigating more direct methods to increase AI pitch generation flexibility. By installing the beta updates for the voices, a Vibrato Modulation option becomes available under the "Sing" mode, enabling users to exert precise control over the depth of AI-generated vibratos. For even finer control of vibrato timing, users can access the "Vibrato Envelope" within the parameter panel.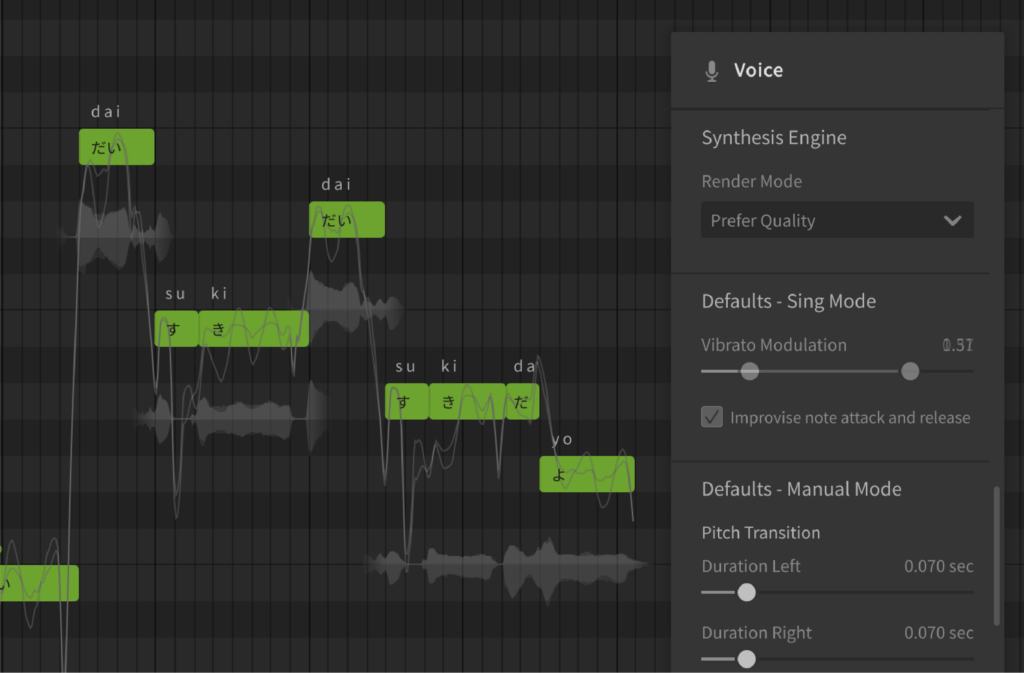 Although our latest pitch generation AI, powered by Diffusion Models, is skilled at employing improvisational techniques like subtle pitch dips when entering a note, there may be cases where users desire a more straightforward performance that remains closer to the note's center. To accommodate these preferences, we've introduced an option within the Voice Panel to disable this behavior for an entire group or track, granting users the freedom to tailor their musical expression to their specific needs.
Cantonese Cross-Lingual Synthesis
We are excited to share our latest enhancements to Cantonese support in Synthesizer V Studio. Following the release of our Cantonese teaser on February 28th and the valuable feedback we received, we have focused on refining pronunciation for an even better user experience.
When the language is set to Cantonese, all Chinese lyrics will be sung with Cantonese pronunciation. If misread lyrics occur, users can correct them by typing the romanized form in Jyutping directly. Although the phoneme set is largely based on Mandarin Chinese, we've also incorporated several phonemes unique to Cantonese.
In addition to these updates, we have made general improvements to cross-lingual singing capabilities, resulting in more accurate pronunciation that sounds closer to a native speaker when singing foreign words. These advancements are part of our ongoing commitment to fostering linguistic and vocal diversity within the field of singing voice synthesis, ensuring that Synthesizer V Studio remains an inclusive and versatile tool for all users.
Free Trials for New Rap Voices
We are excited to introduce Ritchy, a rap AI voice database based on the hip hop artist Mbanja Ritchy, also known as B-Bandj. Additionally, we are excited to present D-Lin, a Chinese rap voice that delivers a higher range and a brighter tone in comparison to Ritchy. While these voices are still under development, we are excited to share our progress with users and have decided to offer them for free through a Feature-Limited Trial (FLT) that includes the enablement of the high-quality rendering mode, subject to the following restrictions:
A maximum of one track for each FLT voice.
Export: output limited to the first 45 seconds.
AI Retakes: Pitch retakes only.
Vocal Mode and Cross-Lingual Synthesis: limited options.
Use in the standalone editor only.
Non-commercial usage only.
Stay tuned for the official launch of Ritchy and D-Lin's full versions on Dreamtonics Store and our licensed retail channels, with an announcement after the final release of version 1.9.0.
How to Access the New Release
Separate beta versions will be released for both Synthesizer V Studio and the voice databases.
Synthesizer V Studio 1.9.0b1
1.9.0b1 is a beta version. Beta releases of Synthesizer V Studio are offered before the final release for early preview of new features. Before installing and using a beta version, please understand that:
The beta version is still a work in progress.
The beta version may not function properly as described.
Unexpected behaviors may happen while using the beta version.
In a departure from previous releases where all notes are displayed in the Synthesizer V theme color, we are experimenting with a feature that assigns distinct colors to notes under Manual, Sing, and Rap modes. We encourage you to share your feedback on whether this color scheme provides effective visual differentiation or proves to be distracting, as we continually strive to improve the user experience.
You can download the 1.9.0b1 installer from our download page.
Note: The beta version is no longer available due to the release of the 1.9.0b2 update.
Voices Updates for Synthesizer V Studio 1.9.0b1
Given the extensive changes in this beta release, we are initially offering beta updates for Dreamtonics voices, which include the following products:
An Xiao, Cheng Xiao, Cong Zheng, Feng Yi, Kevin, Mai, Mo Chen, Natalie, Ninezero, Ryo AI, Saki AI, Qing Su, Weina, Xuan Yu, Yuma
You can download the installers from our download page.
Note: The beta version is no longer available due to the release of the 1.9.0b2 update.
Updates for third-party voices will be announced at a later date.
Feature-Limited Trial for New Rap Voices
You can download the Feature-Limited Trial (FLT) versions of Ritchy and D-Lin by visiting here.
See below for detailed release notes.
---
Synthesizer V Studio 1.9.0b1 (Apr 18, 2023)
New Features
Auto-Process: updated AI pitch generation models with rap support (only for English and Mandarin Chinese at the moment) and more control options for singing.
Synthesizer V Engine: added Cantonese support (voice update required).
Note Properties Panel: added accent (only for Mandarin Chinese), intonation, and tone controls for rap notes.
Note Properties Panel: added Vibrato Modulation for singing notes (only for Pro edition).
Parameter Panel: added "Rap Intonation" view for editing rap.
Voice Panel: added global options for Vibrato Modulation and "Improvise note attack and release" (only for Pro edition).
Enhancements
Note Properties Panel: redesigned Instant Mode as a note-specific "Pitch Mode" option.
Parameter Panel: "Vibrato Envelope" parameter now also works for AI-generated pitch (only for Pro edition).
Synthesizer V Engine: improved the pronunciation under cross-lingual synthesis (voice update required).
Behavior Changes
Plugin: the piano roll keyboard now only plays tones on the channel corresponding to the current track.
Bug Fixes
Auto-Process: fixed a bug where pitch is not recomputed after editing the tempo under Instant Mode (now under "sing" mode).
Note Properties Panel: fixed crashes when switching to a new project after selecting a note group with the panel left open.
Render Panel: fixed small timing inaccuracies when bouncing an instrumental track.
Arrangement: fixed a bug where the name for newly created tracks is not translated according to the UI language.