Synthesizer V Studio 1.7.0 Update: AI Retakes Feature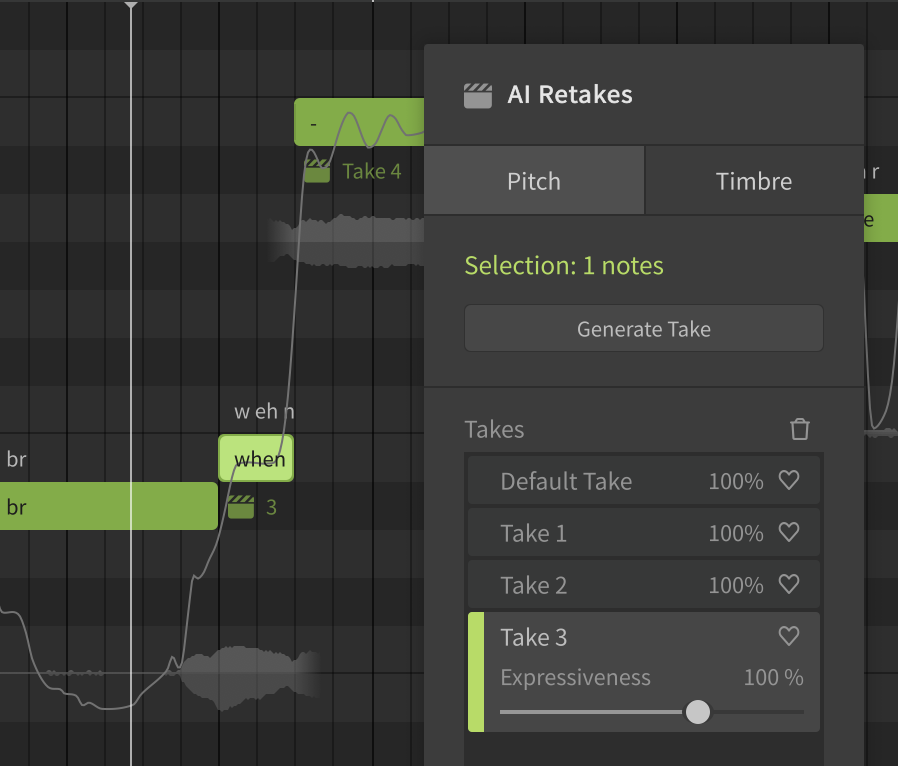 Dreamtonics announces the release of Synthesizer V Studio 1.7.0.
For the first time version 1.7.0 supports High Dynamics Voice Models (HDVM). The Pro edition further sees the addition of AI Retakes feature.
HDVM is designed to replicate the inherent "randomness" of human voice, and by doing so it synthesizes realistic vocals rich in the dynamics. Taking this one step further, AI Retakes feature allows quick comparison between multiple random-generated performances, where users can pick the best up to their preference.
By adding these features, Dreamtonics offers music creators a new experience as if you were recording with a real singer.
High Dynamics Voice Model (HDVM)
HDVM is a technology developed by Dreamtonics that learns the variations of dynamics from natural singing and applies these patterns on to synthetic voices.
Human singers are known to improvise on the loudness, brightness and resonance of their voices. These factors could vary from song to song, or vary continuously in the same performance. HDVM generates vocals rich in these dynamic patterns, once again pushing the limits of realistic vocal synthesis.
Version 1.7.0 also comes with other updates to the synthesis engine including improved sound quality with tension, loudness, and breathiness parameters.
AI Retakes Feature
With the newly added AI Retakes feature, users can create multiple "takes" for a note. Each take carries a unique performance that differs in either pitch or timbre. It is now possible to get ever closer to the ideal vocal expression by simply choosing among takes, without the need to laboriously tune the parameters.
Using AI Retakes
Select the notes to be adjusted, open AI Retakes panel and choose either Pitch or Timbre tab. Then, each click of "Generate Take" would create a different pattern. Takes can be generated up to an arbitrary number until satisfaction.
Each take also includes an "expressiveness" parameter. Larger values for expressiveness would bring even more variations into the singing. On contrary, smaller values often lead to stable and accurate pronunciation.
Voice Updates
The following voices will support HDVM and AI Retakes by upgrading to the versions listed.
Saki AI v123
Ryo AI v 106
Kevin v106
An Xiao v103
Feng Yi v103
Mo Chen v103
Qing Su v111
Natsuki Karin AI v104
Tsurumaki Maki AI (JPN) v111
Tsurumaki Maki AI (ENG) v106
Kyomachi Seika AI v106
Tsuina-chan AI v106
Eleanor Forte AI v105
ANRI v105
SOLARIA v106
See below for detailed release notes.
---
Synthesizer V Studio 1.7.0 (Jul 21, 2021)
New Features
Synthesizer V Engine: support for High Dynamics Voice Models (HDVM).
AI Retakes: a new feature that extends and replaces the randomization section under Voice and Note Properties panels; users can now switch between multiple randomized "retakes", and to apply the said modifications to both pitch and timbre (Pro edition only).
Linguistics: auto-detect language from lyrics when loading databases with cross-lingual synthesis support.

Enhancements
Synthesizer V Engine: improved the audio quality for tension, loudness and breathiness parameters.
GUI: enhanced the contrast for better readability.

Bug Fixes
Live Rendering System: fixed freezes when attempting to delete lots of automation points during playback.
Plugin: fixed keypress leakage on Logic Pro when running natively on Apple Silicon*.
Plugin: fixed unexpected reset of project tempo when loading a project saved in the host's side.
* This is a bug on Logic Pro's side. We currently adopted a workaround by disabling window resizing of the AudioUnit Plugin. We will restore window resizing once this issue gets resolved.